A Lawyer Who Cares
Brennan Quigley prides himself on the fact that his clients are not only happy about the results of their case but also with how they were treated during the process. The biggest complaint he heard from clients at other firms was that they felt they rarely spoke with their actual lawyer and were shifted between different assistants, often times not meeting their lawyer until a court proceeding or hearing. When starting The Quigley Law Firm, APC, Mr. Quigley sought to solve that problem by giving total access to his clients.
Brennan sees his clients as an extension of his family and treats them accordingly. Our number one priority is our clients and we go beyond the call of duty on their behalf. The advantage of going with a small firm is that you are more than just a number on a file – it's a professional relationship.
Mr. Quigley maintains a limited caseload to provide unparalleled attention and access to his clients. The Quigley Law Firm, APC prides itself on its philosophy that doing the best work, not just the minimum acceptable job as is often the case with a heavy caseload, is the right way to serve both the community and our firm. At The Quigley Law Firm, APC you will always be our first priority.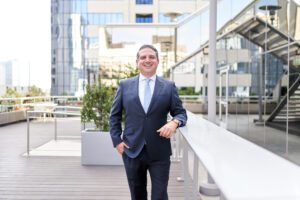 CALL US NOW FOR A FREE CONSULTATION
Do not wait to seek medical treatment. Insurance companies use any gaps in treatment to avoid compensating you for your injuries. Call us today and get your FREE case evaluation.
(619) 413-4405
Brennan Quigley is a former insurance company defense lawyer who knows how insurance companies operate and evaluate your claims. The first step is for us to work with you to determine your unique losses and come up with a strategy to get the results you need. Through our understanding of the law and your understanding of your circumstances, we will craft a path to success that will not only compensate you for your injuries but do so swiftly. Whether your injuries are from a car accident, dog bite, or slip and fall in California, Brennan Quigley will get you every penny you deserve.
Man what can I say other than that this guy rocks at his job! Couldn't have found a more patient, understanding, thoughtful person to help me with my case! Glad I found them! Will 100 % be back in the future if any accidents are to occur! Thank you again Brennan!
James Dunn
January 25, 2022
Brennan Quigley is an attorney who genuinely cares about the client. He is skilled and knowledgeable, and will do everything in his power to facilitate the best possible outcome for his client. Brennan came onto my case years ago to get more trial experience. Unfortunately, the trial was cut short due to Covid, but when I later found myself in irreconcilable differences with my current attorney, Brennan encouraged me to keep looking for another attorney to pick up my case. When everyone was declining to take my case, it was Brennan's stroke of brilliance that thought of the one attorney who didn't say, "no." Now Brennan will be officially on my case with this other attorney, and I am so grateful for both of them. Brennan has been so supportive and I genuinely look forward to working with him!!
Julii Dennstedt
January 24, 2022
Brennan made my experience so easy with the car accident we were in and was very quick and knowledgeable. He knew the answer to all my questions and was very personable. I will always choose Quigley Law Firm if needed in the future.
Seth
January 24, 2022
Brennan is a great accident attorney. He was able to assist and guide me relating to an accident in California that presented several challenges. He was very patient in explaining the issues to me and I would gladly recommend his services.
Freddy Saavedra
August 26, 2020
I was hit while sitting in my car stopped at a red light.  Not knowing where to turn, I contacted my brother-in-law who is an attorney in another state.  He referred me to Brennan Quigley because he knew people who had given him positive reports on Brennan after working with him.  From my first connection with Brennan, I felt I was in good hands. And I was!  Brennan was extremely attentive throughout the whole process.  He kept in constant contact with me and was sure to keep me informed at every step. He never made me feel rushed when we talked by phone and he was very candid & open, always listening to my concerns & discussing options. Every interaction with Brennan was a true pleasure. I always felt heard and that my best interest was truly being represented. Brennan is kind & friendly, as well as a very tough negotiator - he was able to get me the maximum settlement. Stellar attorney. If you have been injured, call Brennan.  His service is outstanding.
Jody VanSumer
May 14, 2020
CALL US NOW FOR A FREE CONSULTATION
You shouldn't wait to contact a personal injury lawyer. The insurance companies are skilled at settling your case as quickly as possible for as little as possible. Do not wait. Call us today for your free consultation.
(619) 413-4405