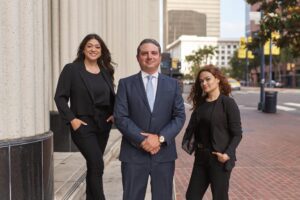 Our Approach
W. Brennan Quigley, Esq is a former San Diego insurance company defense lawyer who knows how insurance companies operate and evaluate personal injury claims. Our first step is to work with you and develop a strategy to get the results you deserve. Through our understanding of the law and process, we will craft a path to success that will not only ensure you receive proper medical treatment and compensate you for your injuries but do so swiftly. Whether your injuries are from an auto accident, dog bite, Lyft or Uber accident, or slip and fall, Brennan is the personal injury attorney that will fight to get you every penny you deserve.
We know that legal action can be overwhelming. We are dedicated to providing you with help in a language you can understand. If you don't feel like you understand your options, Brennan encourages his clients to ask questions and he will work to find an explanation that works best for you. Brennan prides himself on his availability to his clients and believes that client contact is of the utmost importance. This philosophy is the cornerstone of The Quigley Law Firm, APC.
CALL US TODAY FOR YOUR FREE CASE CONSULTATION
Don't hesitate to contact a lawyer about your personal injury case. You will pay NO FEES unless WE WIN.
(619) 413-4405
Our Story
Brennan began his career as an attorney representing disabled persons, who were down and out in life and often homeless, against an entity with a trillion-dollar budget – the Social Security Administration. Mr. Quigley quickly understood what it takes to stand up to large entities, such as the federal government or large insurance companies. Mr. Quigley represented disabled persons through countless administrative hearings, frequently flying across the country to do so. Mr. Quigley excelled in cross-examining expert witnesses to prove his case and secure much needed and deserved monetary awards for his clients. He is known for his quick on-your-feet thinking and ability to put his clients at ease while explaining their options and advising how to proceed.
With the intention of one day starting a law firm himself, Brennan went on to work for insurance companies by defending personal injury litigation and providing coverage opinions for insurance claims. Brennan believed that if he learned not only how insurance adjusters and supervisors evaluated and handled claims, but also how to defend against those claims during litigation, it would provide him with the experience necessary to win big victories and avoid insurance company tricks when on the other side. This experience has proven invaluable for Mr. Quigley during his fight against large insurance companies and governmental entities.
Before starting his own firm, Brennan practiced at a reputable plaintiff's personal injury law firm in San Diego. Throughout his career, Mr. Quigley has helped recover over a million dollars worth of awards, settlements, benefits, and savings on behalf of his clients. Mr. Quigley now offers his insight and skills at The Quigley Law Firm, APC to injured persons all across San Diego and California.
Brennan lives with his wife and two sons, in San Diego. When not vigorously representing his personal injury clients or traveling with his wife, Brennan enjoys watching sports, hiking, and playing golf.
Education, Admissions, and Associations
Saint Mary's College of California
California Western School of Law
State Bar of California
United States District Court for the Southern District of California
San Diego County Bar Association
Consumer Attorneys of San Diego
Consumer Attorneys Association of Los Angeles
CALL US TODAY FOR YOUR FREE CASE CONSULTATION
Don't hesitate to contact a lawyer. You will pay NO FEE unless WE WIN.
(619) 413-4405